I am! I first came across the
Elsie Marley
Kids Clothes Week Challenge earlier this year. Sadly I couldn't join in as we were going away on holiday that particular week, but I loved seeing all the lovely things other people were creating (you can follow them on Flickr or Pinterest). This time around, I'm definitely joining in!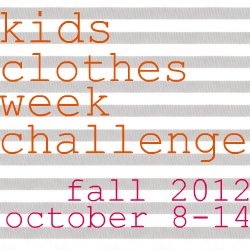 Obviously I'll be making some more spring and summer things for my girls, seeing as it is that time of year for us here - and I'm hoping to get a few Christmas gifts completed as well, for my little nieces. And the not so little ones too - they are growing so quickly I can hardly believe it.
What about you? Are you in?